From car brand to service brand: redesigning Audi's identity for 2025
Asked to redesign the Audi brand for 2025, German agency Strichpunkt created a toolkit with digital devices in mind – and made it publicly available online
ow do you design an identity for a car brand that will be relevant in 10 years time? That was the task recently assigned to Stuttgart agency Strichpunkt by German manufacturer Audi.
Audi asked Strichpunkt to create an identity that could be rolled out across digital interfaces and brand communications. The agency teamed up with Munich-based KMS Team to create a visual toolkit that has been applied to car dashboards as well as print ads and apps.
The new branding includes a simplified logo and colour palette, new typefaces and a new icon system containing over 500 symbols. Speaking at Monotype's brand conference in London yesterday, Strichpunkt's Managing Partner Jochen Rädecker and Head of Development Thomas Michelbach said it required a completely different approach to traditional brand identity projects.
"Digital first"
Most car brands would consider their logo their most precious asset. But if autonomous vehicles become the norm then brands will need to rethink the way cars are designed – and put digital services at the heart of their offering. As Rädecker explained, companies like Audi will no longer be car brands but "mobility service" brands – and will need visual identities created with digital interfaces in mind.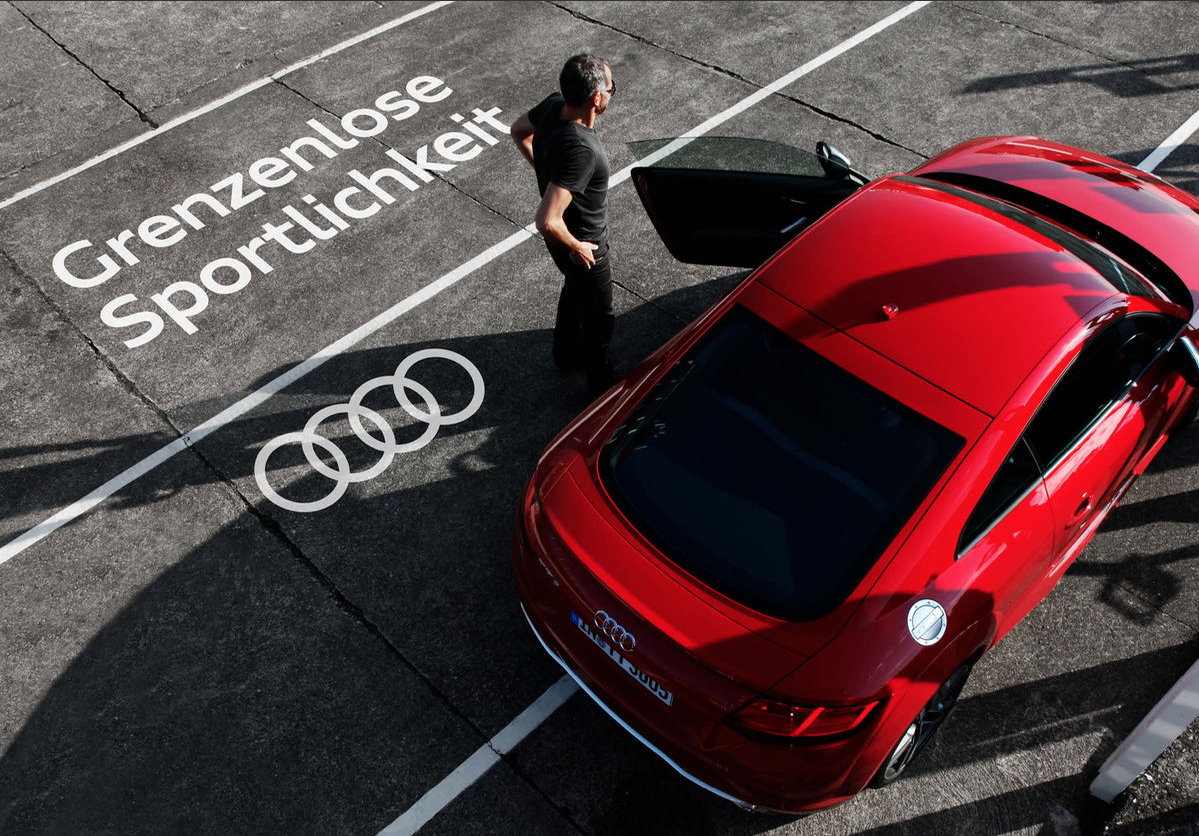 The agency was asked to redesign Audi's identity for 2025 – in other words to create something for an era of digital tech and self-driving cars. "We had the chance to redesign [the Audi brand], not from scratch – the rings are 100 years old and they wanted to keep them for good reasons – but the challenge was to make [Audi's branding] continuous across every touch point," he explained.
"The first rule [of the project] was putting digital first and then looking at printing methods and two and three-dimensional things, because the interface is becoming the brand and the touchpoints are getting smaller. If you wear a smartwatch there's no space for four rings, there's no way to use the logo in the [traditional] way, so you have to rethink branding completely," he said.
Strichpunkt decided to create a more flexible identity based around a few core components or "building blocks" – an approach Michelbach referred to as "atomic design".
Atomic design
"The atomic design principle comes originally from web development," explains Michelbach. "You divide the whole interface into smaller chunks and you try to sort them hierarchically and you compose them together and form them from the smallest to the largest medium. In the traditional way you have fixed formats … [but with atomic design] you have all those small brand elements which are called atoms and you combine them together into molecules and build a larger element out of them. You can then take the same atoms and apply them to something like print advertisements or something like smartphones."
"Years ago we would take the most complicated medium – something like a complex poster – and once we derived a design for that we'd go back to the simplest medium. Now it's completely different," added Rädecker.
Strichpunkt 'flattened' Audi's logo to reflect its new digital focus and make it suitable for use on small screens and devices. It also created a new typeface for digital use and a suite of around 500 icons. These are designed to work on both small and large screens and different versions are available for use on light and dark backgrounds.
Alongside this Strichpunkt created various user interface components and motion graphics principles to give apps and interfaces a distinct look and feel. Animations include a small ripple effect and transitions that reflect the acceleration patterns of Audi's vehicles.
The end result is a comprehensive system that can be used more easily by Audi's various dealers, partner agencies and creative teams around the world. Rädecker says Strichpunkt has enabled people to have "more fun" with the identity system: "the most important thing you can do to help transform a brand for the digital age is enable people – not to do something that is no fun [to work with]," he said.
Allowing people to have more fun with the brand
Strichpunkt then packaged up these different components in an online toolkit that can be easily shared and updated – an approach that is commonplace at startups and digital brands but less so at long-established companies like Audi.
In an unusual move the toolkit has been published online for anyone to access – you can check it out at audi.com/ci. The simple interface allows people to view and download different components and see examples of each component in use.
"We're not trying to tell people what to do exactly but show them inspiring examples of how they can work with the brand," said Michelbach. As with any corporate identity, there are still rules around things like logo positioning and line spacing but these are clearly explained through simple diagrams. The site also provides advice on imagery and illustration and provides clear step-by-step guides to creating assets such as online banners.
Strichpunkt will soon be launching a new interactive tool on the site to help people understand Audi's identity guidelines. Users will be able to mock up Audi assets, selecting background colours and imagery to use alongside the brand's famous rings and the tool will explain whether their design is in keeping with key design principles. Rädecker said interactive tools make corporate design manuals "more approachable" for non-designers – encouraging them to learn how the identity system works through playing rather than reading a 300-page PDF.
Strichpunkt worked with Munich agency KMS Team to create the identity: "We joined forces with a clear vision – we made the digital stuff and they made the print stuff – but in the end we had to work together and work with the client," said Rädecker. This was achieved in sprints – a common approach in digital teams – rather than working to a fixed completion date.
"This is one of the most important things we learned from the job. It's far better to share your knowledge and invite your customers to come in and be part of the team, rather than going and presenting to them every four to six weeks," he added. "If you do that, you risk someone saying 'I could have told you after two days that is not working'."
The Audi logo was flattened to better suit digital devices
As well as publishing the identity toolkit online, Strichpunkt made everything it had coded available on developer platform GitHub. "We open-sourced it so that everybody who wants to work with the brand can work with it. You can download every component that we did," said Michelbach. Rädecker said many people have experimented with the brand components on GitHub – leading to further developments and refinements to the identity.
The identity launched last year and has since been used in print ads as well as digital communications and the dashboard in Audi's Q8 concept car. Rädecker said this happened as a result of making the identity open-source and "speaking in a language" that people could understand when it came to using the identity.
It's a considered system and an interesting example of how car brands are adapting to an era of digital interfaces and self-driving vehicles.